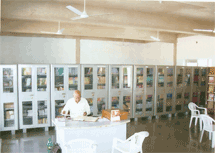 The Library and information service plays an important role in organizing, processing, retrieving and disseminating the information as well as providing the documents to its users. The objectives of college library is to collect, to process, to store, to retrieve and to disseminate the information on teacher education and its ail allied disciplines of teaching. Therefore, the college library is an integral part of college since its beginning. The Principal has the full power and control over the library budget, development of library resources and infrastructural facilities. A Library Advisory Committee is constituted to advise on library policies, finance and development the resources.
The Library provides common facilities of all courses. It has seating capacity of 80 students at a time. At present after (Books added during last quarter- 250) the library has -13436 books /documents including all type of documents i.e. text books, general books, 200 reference books and it has 4214 titles of general books and 80 titles in book bank which is having 20 copies of each title.The libray subscribes 25·currents journals, 10 magazines and 9 newspapers. Library membership is open to all students and staff of the colleges . The Library follows the D.D.C. Scheme for storage and arrangement of books subject wise in the helpful sequence. The AACR II is being used for cataloguing, indexing and retrieving the information.
Now library service is being computerized by using e-Granthalya ver. 3 (library integrated software) devised by NIC, New Delhi since 2010. Library has also photocopying machine RECHO-1600 Le Model for reprography work of students and teachers. In addition to library provides ILL among regional libraries. The Library got the membership of DELNET, lNFLlBNET and NICNET for online data base search facilities. Library has also book bank facilities for economically weaker students.
College Convocation & Athletics Meet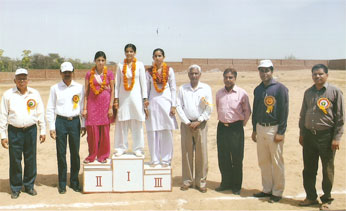 The first convocation of B.Ed course was held on 13th April 2008 and second convocation was held on15th April 2010. The chief guest was Ch. Bahadur Singh formerly Education Minister of Haryana and Chief patron of college. The B.Ed degree was confirmed to the participating students.The first Athletics Meet of college sports was held on 9th 10th march 2008 and second was held on 8th and 9th april 2010 Respectively .Most of the student participatad enthusiasticaly and zealously.
Students Enrollment & Results
Students Enrollment & Exam Results since 2004/05-2008/09
_