Welcome to Shri Krishna College of Education
The Teacher is the prime resource of the education system. The development of the nation rests squarely on the shoulders of teachers because teachers are the back bone of national character, health, development and human values. Teachers have to shape their pupils in the classrooms and teachers are shaped in the teacher's training institutes.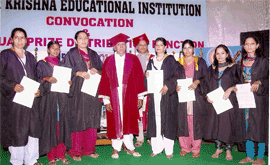 Thus the quality of education depends upon the quality of teacher education.The D.Ed and B.Ed courses are based upon professional commitments, skills and knowledge with human values, attitudes and attributes. Therefore, the teachers, education shall have to take a global view. new trends, methods, strategies and practices to focus on an indigenous heritage and thoughts which could fit in local as well as national situation and in the real sense of "Acharya Devo Bhav".
---

Aims and Objectives
To enable teachers for acting as agents of modernizations, social change, promotion of social cohesion, protection of human rights
To empower teacher to cultivate rational thinking and scientific temper among students
To develop competencies and skill for becoming effective teachers
To acquire mastery in contextual, conceptual, evolutional organizational and transactional competencies
To provide and promote best teacher education, training, extension and research in school and higher education
To disseminate information on teachers education, educational technology and experimental practices
To establish an educational information resource centre and library to collect, process, store, retrieve and disseminate the informatio of teachers education and its users community.

Applications for Positions
SHRI KRISHNA COLLEGE OF EDUCATION
PALI, District: Mahendergarh, PIN-123029 (Haryana)
Applications are invited for following positions for B. Ed. Course: -
1. Principal – 1 (one)
2. Assistant Professors: Perspective in Education-4, Pedagogy subjects-8 (Maths-1, Science-2, Social Science-2, Language-3(Hindi-2 & English-1).
3. Specialized courses: Health & Physical Education-1, Fine Arts-1, Performing Arts – (Music/Dance/Theatre)-1.
4. Non-Teaching: Libraian-1, Tech. Asstt. -1,
Qualification & Pay Scale: As per NCTE/I.G.U. Meerpur-Rewari /State Government norms.
One copy of Application must reach the principal and another to the Dean of Colleges, I.G. University, Meerpur-Rewari (Haryana) with fee of Rs. 1000/- by 12/05/2022.
Ph: 01285-240310 Chairperson