About the College
The Shri Krishna College of Education, at Pali, ( Mahindergarh) is a self financing college started on 17th October 2004 in a rental building at Mahindergarh town has now been shifted in its newly constructed. campus building in village Pali on 26th August 2007.The college campus(Called Shri Krishna Educational Institute ) has an area of 3.3 acres i.e (13283.57 sq/m.) The college has its own and the best architecturally designed double storey building having in-built area of 4300 sq/m in the green belt with pollution free natural environment. (costing more than 4 Crores) .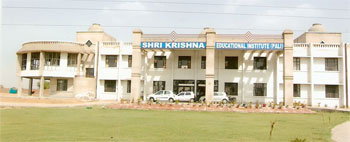 It is 7 k.m. away from railway station and town of Mahindergarh jon Dadri -Mahindergarh road just 500 mtr ahead of Pali bus stand.
The College has vast/specious verandas and lobbies consisting of very specious airy class rooms, multipurpose hall of 500 students seating capacity, a big library hall of 2700 sq/ft area, seminar rooms, principal room, staff room, office room, store room, dispensary, separate common rooms for girls and boys, separate 4 big toilets for girls and boys, sports room, guest room, canteen, various laboratories i.e. Language Lab, Science Lab, Psychology Lab, E.T & ICT rooms, etc. As a whole, the college has 38 rooms. It has big and open play grounds. All facilities for games and sports like indoor and outdoor games and athletics tracks, etc.are available. The building has fire safety measures and got Land Use Certificate (LUC) from government. It fulfils all requirements of NCTE and MDU norms. The college is managed and governed by Shri Krishna Education & Welfare Trust. The college management Committee has 11 members.
About Trust
Shri Krishana Education & Welfare Trust, Charkhi Dadri (Bhiwani), is a registered trust with the aim to remove illiteracy and to provide quality education to all section of the society. The Trust resolved to open Self Financing College and selected a site in the rural area of south Haryana at village Pali at a distance of 7 k.m. on the Mahindergach -Ch. Dadri state highway no. 17. Now it is adjourning its boundary to newly established Central University of Haryana. Mahindergarh is an old district of PEPSU in the name of Maharaja Mahinder Singh of Patiala State and it is well known on the map of India for its soldiers in defense services and its role in 1st Independence War during 1857 led by Rao Tula Ram. But this area was not at par with other parts of the state in the field of teacher education. Therefore, the trust opted to open an educational institute in this area and named as "Shri Krishna College of Education", which is the first education college opened during 2004 under Self-Financing Scheme in the state.The other Institutes run by the trust are Shri Krishna College of Education, Karnal, Shri Krishna College of Education, Atela (Bhiwani), Shri Krishna Sports College, Pali and Shri Krishna Institute of Arts and Craft, Pali. The Trust registered under State Registration Act (Registration No. 4072 dated 29.12.2003) having its headquarter at 6, Puran Bagh, Loharu Road, Charkhi Dardri-Pin 127306, Distt: Bhiwani (Haryana). The Trust office bearers are; 1. Smt. Krishna Devi -President and 2. Smt. Bimla Devi -Trustee. The Trust has its own land for the college at Pali and has obtained Land Use Certificate (LUC) from state government.